Happy Easter, my lovely stargazers! I'm sure you know by now that Easter is a very astrological event tied up in the equinox and the return of the Sun. So, to help you celebrate, here are 12 ways to celebrate Easter according to your zodiac sign – but by all means try more than one of these as a spiritual alternative to chocolate bunnies (which of course you'll want too).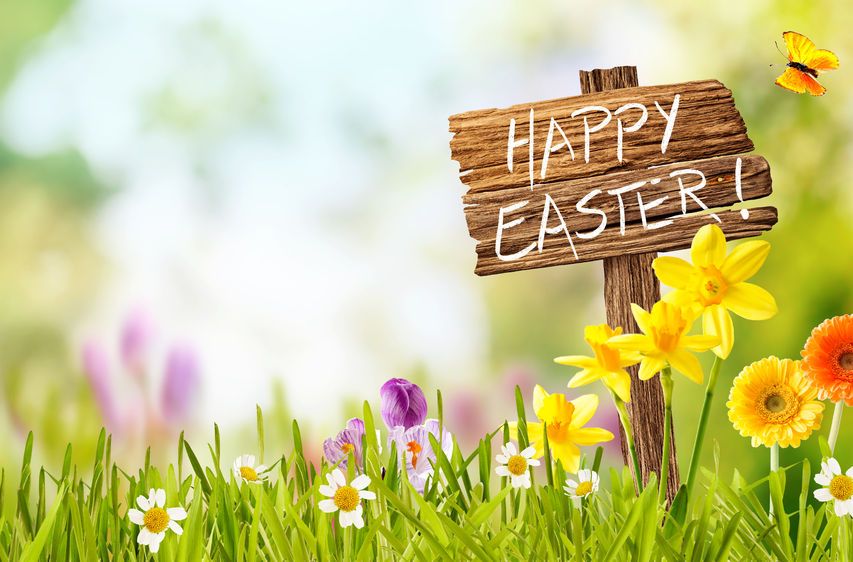 Aries: Start a new project
The Spring Equinox and Easter mark a time of new beginnings and since this is your birthday season, Aries, what better way to celebrate than to start something new? New projects or hobbies can often make us feel nervous, but all the fluffy chicks and new-born lambs can surely provide hope and inspiration for some of that famous fiery Aries passion!
Taurus: Get back to nature
In the northern hemisphere, this time of year is when the new buds start budding and flowers bloom again after a long cold winter. Since Taurus is an earth sign, you're most relaxed when hanging out with Mother Nature, so make sure to find time to enjoy her gifts and celebrate the new season of spring with some walking, picnicking (if the weather permits!), photography or even a spot of tree hugging!
Gemini: Spread some cheer
Easter Sunday usually falls on or around the 1st April, which is also known as 'April Fool's Day'. This ties directly into the first major arcana card of the Tarot, The Fool. The Fool is the beginning of a journey and represents the childlike innocence we have when at the start of something – we're yet to become wise or jaded with experience! Since Gemini is ruled by Mercury, the trickster, get your April Fools on and spread a little laughter this Easter!
Cancer: Worship the moon
While Easter is very much about the return of the Sun/Son of Christ, the moon also plays a huge part in the tradition. Easter Sunday always happens on the Sunday after the first Full Moon of Spring. This is why the date can shift around so much from year to year! Since your ruling planet is the Moon, you're better off focussing on the lunar energies, rather than solar, so for a pagan-style Easter tradition, activate the introspective energies of the moon by journaling, charging your crystals or even just reflecting in her pearly glow from a window.
Leo: Worship the Sun
As opposed to Cancer, your ruling sign is the Sun, and since Easter is about the resurrection of our big fiery star (or a certain religious icon), Leos will feel happiest celebrating Easter by embracing the Sun. Dancing, singing or creating will get your sunshiny self in a celebratory mood, so why not take advantage of your extra days off and get busy!
Virgo: Celebrate the feminine
With all this talk of Jesus and the Sun, it can be easy to forget that, according to the story, Jesus was conceived around this time of year by the Virgin Mary. Since Virgo is the sign of the virgin, for you, Easter should be a time to remember the feminine side of life; the themes of birth and nurturing. Care for animals or play with children, beautify your home or yourself, feed your family, or let your mother or the important women in your life know that they're awesome.
Libra: Do a full moon spell
Since Easter always has to follow the first full moon of Spring, and Spring is always in Aries season, the first full moon will usually be in your sign: Libra. So, for your Easter tradition, let the Moon show you what needs to be left behind in your life, ready to enter a new year. Make a list of things that aren't serving you, read it aloud, then burn it (carefully!) to activate the Sun's fiery energies of rebirth.
Scorpio: Transform the old into new
Just like Jesus himself, a Scorpio is the master of transformation, and that's what Easter is all about! This can be a spiritual kind of transformation, similar to Libra, or it can be as simple as spring cleaning your home, redecorating or up-cycling some old clothes or furniture. Perhaps there's even a relationship that could do with a little spicing up? Use your phoenix-like abilities to transform something this Easter, even if it's just turning a plain old egg into a brightly painted one!
Sagittarius: Learn about other cultures
Easter isn't just a western thing, there are so many other cultures that celebrate the beginning of spring (read about more of them here!), so in true Sag spirit, why not learn a little about some of them, or perhaps even plan a trip based on your findings. The whole year lies ahead of you, a little planning and fantasizing about your next adventure is a great way to celebrate a new season.
Capricorn: Set the ball rolling
Since Capricorn season, the plants have been planning and growing roots beneath the ground, much like yourself! So now the Sun has returned to his glory, it's time for you to do the same. Get out your pen and pad and write down what you want to achieve in 2022 and break it down into small, scalable goals. Then pick one and start – the seasons are on your side!
Aquarius: Celebrate with friends
Jesus had his disciples, the Sun has the Moon, and the Easter Bunny has… dozens of chocolate-crazed kids? Easter is a time of togetherness, and since you are a pro at bringing people together, you'll feel happiest surrounded by people, perhaps for lunch, a picnic or even an Easter egg hunt! If you're feeling extra sociable, get out and volunteer your time for an Easter chat with someone who wouldn't otherwise get the chance.
Pisces: Ask the angels for guidance
Whether you're a Christian or not, Easter is a very spiritual time of year, and one that many cultures have celebrated throughout time. Since your intuition is strong, why not borrow the Christian concept of angels for a meditation sesh, and ask them for some guidance in moving forward with the seasons. You don't have to be religious to get advice from above!
Happy Easter! May it be showered with love, chocolate and exciting new adventures! As always, your comments are most welcome! Please leave them for me to read and reply to below. And if you'd like to read more posts from me, please visit Dismystic, my blog on astrology, alchemy, lifestyle, and magic!
Ellie Rose Astrologer x
Speak to one of our psychic readers today to reveal what lies in store for you this Easter!