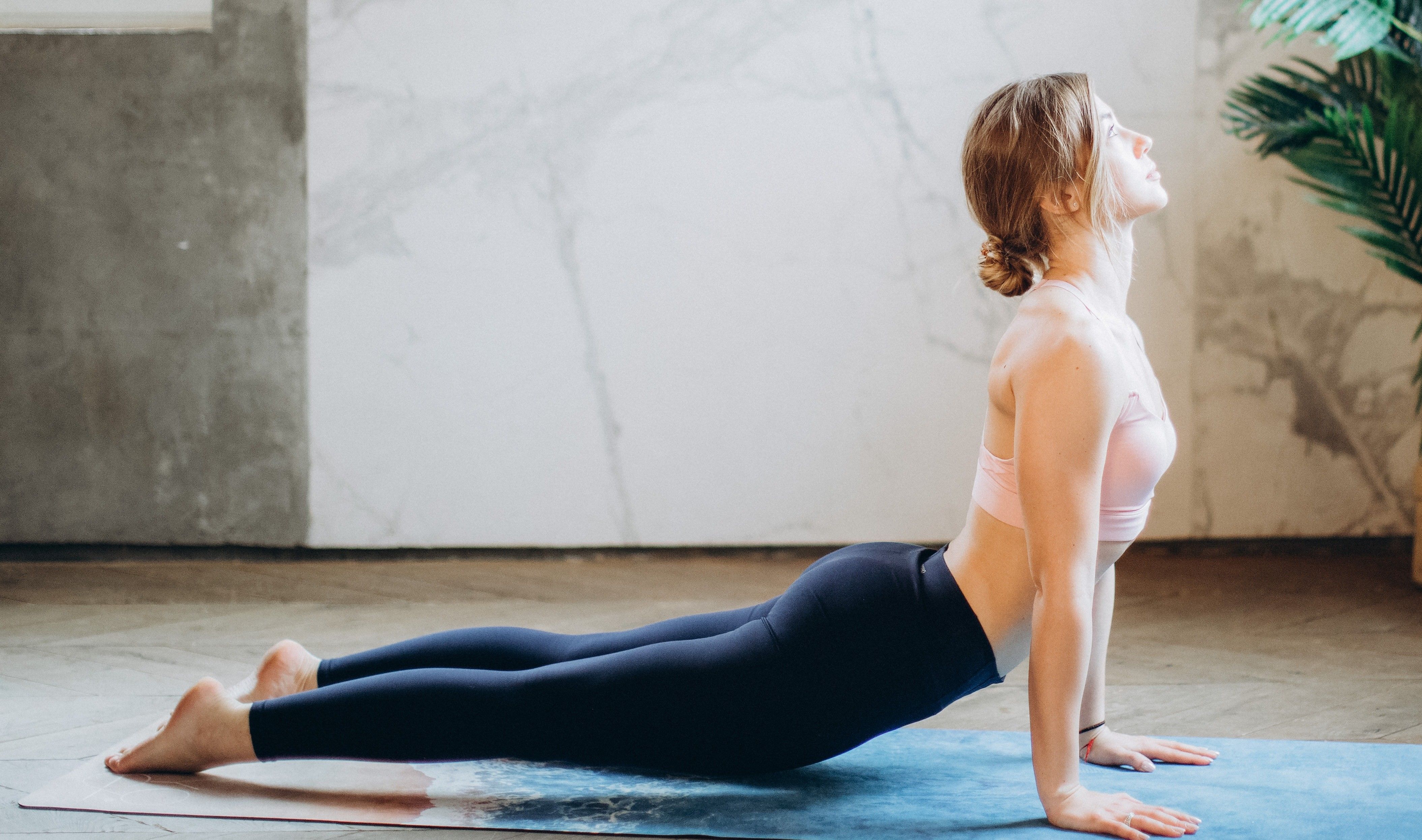 Aries – Warrior 1
Aries is the sign of the warrior, so what better pose to do than the Warrior?! This pose is great for stretching legs, hips and backs as well as boosting energy and self-confidence, so you can go back to your life with your inner strength at its peak, like the warrior you are.
Taurus – Cat / Cow
Since Taurus is the sign of the bull, what better pose to do than cat / cow? The steady rhythm of this pose is perfect for grounding and releasing any negative emotions you may have picked up throughout the day with your sensitive nature. Remember to breathe!
Gemini – Tree Pose
Gemini is often overwhelmed by thoughts, so you'll need a pose that takes all your concentration and helps to clear your mind. The Tree pose is great for focus as well as giving you a little boost of confidence in yourself that you can achieve anything you put your mind to!
Cancer – Bridge Pose
A Cancer is a sensitive soul and often gives to others over themselves, so if this is you, a good chest-opening yoga pose will strengthen your heart and stimulate feelings of self-love. Yoga is a great way to take care of yourself so make sure you do this one regularly to avoid feeling burnt out!
Leo – Mountain Pose
A Leo might seem confident and together, but a lot of the time you can actually be very harsh on yourself. The Mountain pose is simple but very powerful and will help you to stand strong in your strengths, find your inner confidence and begin to trust that you have everything you need, regardless of what others think!
Virgo – Child's Pose
It's quite easy for busy Virgo to get overwhelmed and so instead of giving you a complicated pose that I know you'll easily master, try a simple Child's pose and surrender to what will be. Child's pose is what we use when we take a quick rest in yoga, or when things get hard and we need to go inwards.
Libra – Bow Pose
Open your heart up with a Bow pose, designed to strengthen your chest and back, as well as softening any negative feelings you may be having about yourself. This pose makes you feel strong while still making use of your gentle yet determined nature. Take it slow though!
Scorpio – Happy Baby
If that well-known passion of yours isn't put to use it can store up in the body as tenseness and negativity, so a light-hearted pose that opens your hips like the Happy Baby is perfect for a Scorpio who could do with a little more joy. Just roll around like a big baby and enjoy the gentle spine massage, there's nothing more to it!
Sagittarius – Locust Pose
A Sagittarius is so full of exciting ideas that sometimes they get overwhelmed or don't end up putting any of it into action, this can cause a dip in your confidence that yoga can help with! The Locust pose strengthens your spine and back muscles, so you can stand up tall and begin to confidently chase your dreams.
Capricorn – Extended Side Angle
The Extended Side Angle pose starts off a little difficult as it requires you to know your limits and get it right before you move onto the next stage, making it perfect for a dedicated Capricorn who needs to feel like they're doing something well but sometimes needs to slow down and really focus on the task at hand.
Aquarius – Boat Pose
An Aquarius needs their mind to be stimulated, so a Boat pose is perfect as it can take a little while to perfect, something an Aquarius is great at, but it's unique enough to keep your interest as well as strengthening your determination and confidence.
Pisces - Lord of the Dance
Increase your discipline while feeling graceful and creative with the impressive Lord of the Dance pose. It's perfect for a Pisces who can get stuck in dreaming as it encourages us to be bold, take action and keep persevering until we make our vision a reality.
Please leave your lovely comments below! Much Love! Ellie Rose x
Speak to one of our expert psychic readers today to find out what the planets and stars hold in store for you.