Springtime is the perfect time of the year to venture out into nature. It is the season of new beginnings, and an excellent time to create a special spot in your garden. A Miracle Garden is a place where you can grow your favourite plants and flowers, and communicate with spiritual and angelic beings, and the elemental kingdom.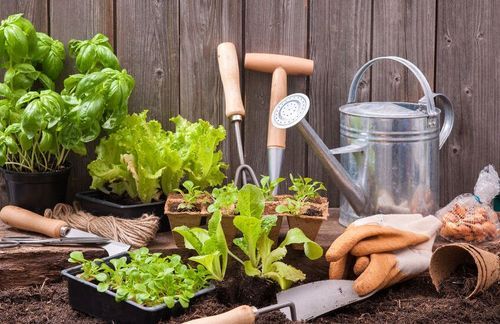 A Natural Creation
When cultivating crops or planting and tending a garden, it makes sense to work with the spiritual beings that work with the wonders of nature every day. The elemental kingdom specialises in the building of form. This means that they are responsible for transforming thought forms into physical form and creating flowers, plants, tress and everything in nature. Elemental beings are divided into 4 groups that are associated with the elements – water (undines or mermaids), fire (salamanders), air (fairies and sylphs) and earth (gnomes, elves and menehune). Co-creating in your garden, with divine help, will reward you with a greater sense of harmony, inner peace and happiness, and it will also deliver a beautiful bounty. You will want to visit this special place often.
Working With Gratitude
A Miracle Garden can be created practically anywhere. You do not need to own a vast plot of land in order to benefit from the miracles of nature. Any size of outdoor space is sufficient. If you don't have a garden or patio area you can create a mini sized Miracle Garden in a window box or plant pot. When working with nature it is important to understand the value of every living thing. Elementals and spiritual and angelic beings show respect, and offer support and protection to all living creatures. It is important that you do the same.
Design And Planning
Choose a designated area of your garden to transform into your spiritual sanctuary. A Miracle Garden is a space that is thoughtfully planned and designed so that you can physically experience the connection between Heaven and Earth and the Universal spiritual realms. You can design your special place however you want to. It is your personal sanctuary where you can retreat to relax and connect with the Divine. The process of co-creation, with angelic, spiritual and elemental assistance, naturally moves with the flow of nature and is therefore gentle, loving and joyous. It is a good idea to appreciate the richness of the soil, and to give thanks for the water and the sunlight that will make your plants grow and flourish.
A Celebration Of Colour
Understanding the balance of nature will also help you to create a Miracle Garden that blooms into full colour every season. Planting for colour increases the vibration of your garden and attracts abundance. Choose a variety of colourful and fragrant flowers to bring your Miracle Garden to life. Plant seeds and bulbs in the spring and be patient whilst they grow.
How To Ask For Assistance
To invoke the help of the angelic, spiritual and elemental beings all you need to do is ask. If you need help in deciding where to plant your seeds, or how to tend to your flowers, ask for guidance and trust that the answer will be given. To say thank you, place something special in the Miracle Garden. This could be a small stone statue or ornamental objects that add visual interest to your sanctuary's space.
To connect with spiritual beings, call one of our experienced psychic readers today.